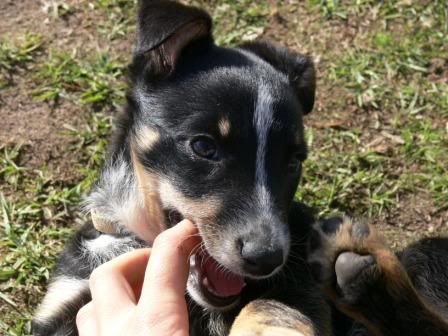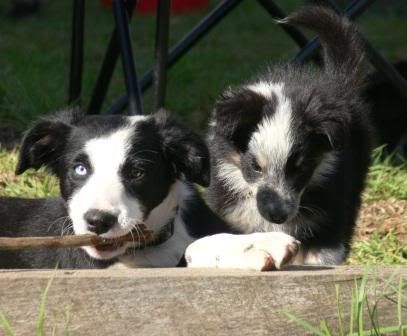 Right- so I've accepted that we can't possibly keep all the pups... Sally's litter are now 8 weeks old, and officially available for sale.

So:

Boylee Bill x Ivanhoe Sally

Born 03/03/06 (currently 8 weeks), black/white ticked, black tricolour, short/medium coated pups.

Dam: Ivanhoe Sally (Paton's Blaze x Woady Yallock Floss), small finely built bitch, wide working, strong eyed, athletic and biddable. Sally's a bit mad, very active and super-fast, just driven to do things, although steady and settled on sheep.


Sire: Boylee Bill (Boylee Pepper x Boylee Creamy), medium sized, keen and biddable, free moving dog. Bill is a honey- loves to work, toy-crazy and a tugging fool, but settled in the house and total cuddle-bunny.


Also available, older pups retained from earlier litter (we want to keep one, can't decide!)

Two 14 week old bitch puppies, black and white smooth-coated

Dam: Daheim Queenie (El Shamah Max x Gibson's Brooke), very keen but honest, easy to handle bitch, wide cast, reads stock well, natural pace, quiet calm working style. Medium sized with an athletic build, Queenie is high-drive without being manic.


Sire: Boylee Fred (Boylee Pepper x Boylee Creamy), great all-round utility dog, works well in paddock and yards, trials and farm, natural wide cast and pace, wonderful temperament.

Contacts:
Richard on:
(08) 98336309
0427 380271
rgmcguire@bigpond.com

or me on:
0429386189
nabudi@weavers.leet.com.au